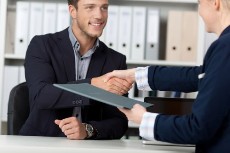 With so many qualified job candidates on the market, it's not always easy to find and recruit the best ones for your company. As the Baby Boomer generation retires and the market fills with even more educated and qualified young talent, it's going to get still more difficult to sort through them all. Luckily, all hope is not lost.
One of the best ways to find the talent your company needs is to take advantage of your existing networks and the networks of your employees. Your employees may be able to connect you with great candidates from their own personal and professional networks, and you should be able to tap your own personal, professional, and academic networks for talent as well. Make the most of your company's website and social media platforms, write detailed job postings, always look to build relationships with potential candidates, and don't be afraid to use the services of recruiters and temp agencies.
1. Tap Your Networks
Word-of-mouth is still one of the best ways to find great candidates to interview, and these days, each person in your organization will have access to a network consisting of possibly hundreds of professionals. When you have a position to fill or you're seeing too many red flags in your interviews, ask employees and friends for recommendations. Take advantage of social media networks and professional networking sites like LinkedIn to find good candidates. Trade shows, conferences, fundraising events, and even academic reunions are great places to scout for talent.
2. Use the Internet
While online job postings are a valuable way to reach good candidates, a job posting alone isn't the best way to take advantage of all the Internet has to offer in your search for your next superstar employee. Use your company website to really sell potential new hires on your company's values, culture, and goals. Make it easy for potential candidates to submit their resumes and cover letters. Provide a link through which candidates can contact your company directly, even when you're not actively hiring — you might be surprised at how many contacts you can build this way.
Many of today's young candidates use social media platforms like Facebook and Twitter to look for jobs, so don't be afraid to publish job postings on these forums. A public post on social media can reach a global audience. Get creative and make your posting stand out to help it go viral.
3. Be Specific in Your Job Posting
A detailed, specific job posting is one of the best ways to recruit new talent, and creating such a posting also helps you understand exactly what it is you're looking for in a new recruit. This is especially important if you're a small-business owner or entrepreneur without a lot of prior hiring experience.
Many small-business owners start out with a rather amorphous idea of what they want in a new hire. Composing a detailed job posting helps you clarify your needs and desires and can also help you stick to your requirements, even when you're faced with that one charming candidate who maybe doesn't have all the skills you require.
Make sure your job posting clearly lists all the qualifications you're looking for. Candidates appreciate knowing what a company wants from them. Being specific about the skills, education, experience, and other qualifications you need saves under-qualified candidates from wasting their time and encourages those who are qualified to apply.