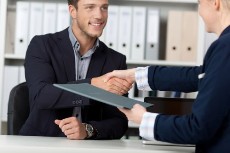 With so many qualified job candidates on the market, it's not always easy to find and recruit the best ones for your company. As the Baby Boomer generation retires and the market fills with even more educated and qualified young talent, it's going to get still more difficult to sort through them all. Luckily, all hope is not lost.
One of the best ways to find the talent your company needs is to take advantage of your existing networks and the networks of your employees. Your employees may be able to connect you with great candidates from their own personal and professional networks, and you should be able to tap your own personal, professional, and academic networks for talent as well. Make the most of your company's website and social media platforms, write detailed job postings, always look to build relationships with potential candidates, and don't be afraid to use the services of recruiters and temp agencies.
1. Tap Your Networks
Word-of-mouth is still one of the best ways to find great candidates to interview, and these days, each person in your organization will have access to a network consisting of possibly hundreds of professionals. When you have a position to fill or you're seeing too many red flags in your interviews, ask employees and friends for recommendations. Take advantage of social media networks and professional networking sites like LinkedIn to find good candidates. Trade shows, conferences, fundraising events, and even academic reunions are great places to scout for talent.